A new report from Trulia released this week looks at zip codes around the nation to determine which areas are shifting in favor from home buyers and which are shifting toward home sellers.
Overall, the report found that among the 100 largest metros in the U.S., about 50 are now shifting in favor of buyers. This is a ten-fold increase from just five metros a year ago.
Trulia looked a number of metrics including the percent of listings with at least one price cut, the median days a listing was on market, and the sales-to-list price ratio as well as other housing-related data to determine their conclusions.
But how does Denver stack up in the mix? And, perhaps just importantly, is it time for renters who have been waiting it out to dive into the home buying fray?
Denver Real Estate Market
The report reveals that the Denver area overall is shifting slightly in favor of homebuyers. However, it is moving much less dramatically than in other hot markets.
Vita plucked out the top zip codes in the area that are at the top of the list, as well as those that are still a renter's haven.
Top zip codes shifting toward home buyers are 80118, 80108, 80214, 80218, and 80601. These encompass the areas of Larkspur, Castle Rock, Edgewater, City Park West and Rhino.
Also according to Trulia the median sales price for homes in Denver was $391,000 from January to April 2019. Meanwhile, the average rent is $2,200.
Except for one zip code in the list above (80118, Larkspur), the areas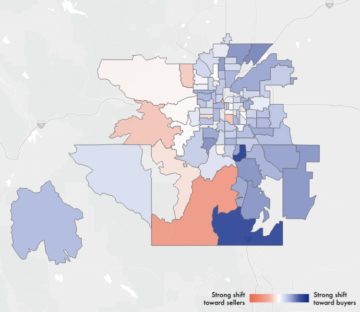 moving towards a buyer's market in the region are also some of the area's priciest. Meaning, on average more homes are being sold below asking price and selling more slowly.
The flip side is that a decade of rising home prices still leaves many priced out of home ownership, even if the tides are turning. For those wanting to enter these hot neighborhoods, renting may still be the best option.
Moreover, the report found that there are still several neighborhoods — downtown, the Golden Triangle and Capitol Hill, among them — still leaning toward home sellers. Not surprisingly, these zip codes correspond to the more urban neighborhoods in the city where apartment communities are thriving (vs new condo builds).
It's tough to say how this shift will play out in the coming years but it's easy to see by the number of cranes across the skyline that real estate is booming no matter what the future holds.
Related Resources