Overview of Denver's housing market
As the largest city in Colorado, more than 700,000 people call Denver home and nearly 2.7 million people reside in the metro area.
As most residents, renters and home-owners know, we're still growing. But what does that mean in terms of housing? Here's where the experts weigh in.
What's ahead in 2019 real estate
According to the Denver Metro Association of Realtors Market Trends December report, overall housing inventory in at the end of 2018 was 46.76 percent higher than in November 2017. This may mean a leveling off of supply-demand and hint toward more of a buyers market ahead.
What does this mean in hard numbers?
According to real estate research by Zillow, the median home value in Denver is $424,700. This is a 7.2 percent increase over the past year.
The median rent price in Denver is $2,000.
They estimate that buying is better than renting if you are living in your home more than 2.3 years (this is their "break-even point"). This, of course, depends on the amenities, pricing, and location of either home.
For example, a property Downtown will often go well above the average home value but remain in the median rental range.
Rental trends continue to show a strong and competitive housing market. This holds true for our own experience. Metro Denver renters absorbed 13,707 units in 2017 (more than the number constructed), according to the Denver Metro Apartment Association.
However, this high demand and a growing supply are offering renters some relief.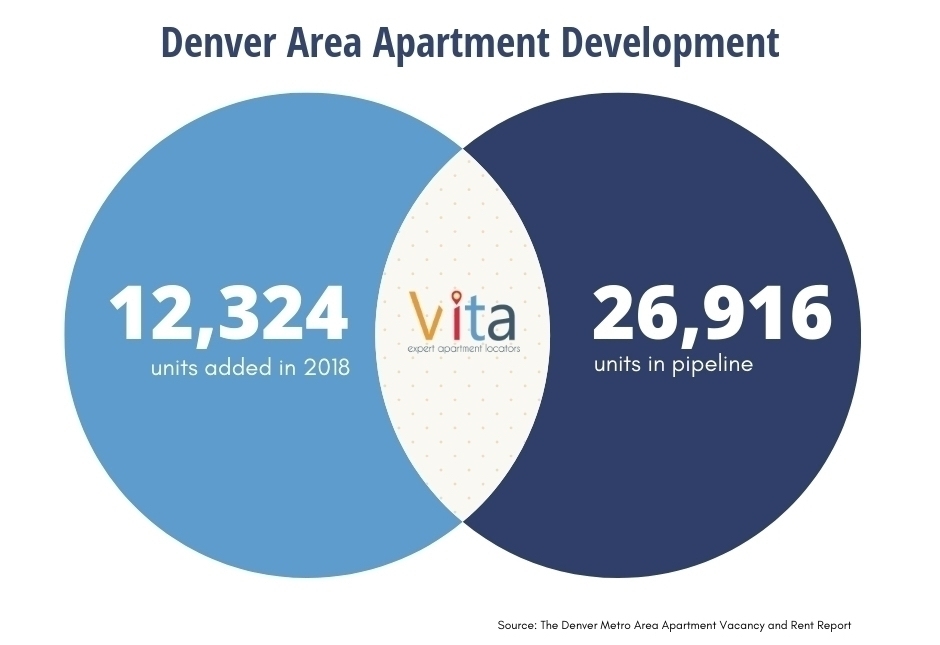 While rental pricing remains relatively steady, the competition for leasing is helping area renters in terms of leasing specials and other deals for those in the know.
These can very from parking, gift cards, Prime subscriptions and other incentives — even FREE rent!
Where to live in Denver
Where to hang your hat is a very personal decision based on your lifestyle, commute, budget and other preferences.
Taking into account only the market, however, the most expensive neighborhoods to rent apartments in are Downtown, Golden Triangle, Cherry Creek, and the Highlands. Conversely, the cheapest areas to rent apartments tend to southwestern and east Denver.
But when taking into account pricing, don't forget about value. There is nothing like coming home to a house that you own or coming home to a luxury rental with all the conveniences and a stunning view. Determining what price your willing to pay for each is key.
Unsure which area to live? What properties offer the best value?
Related: Check out our neighborhood guide or let us lend a hand in your housing search.